News & Quotes
"What is an integrated life? To integrate is "to form into a more complete, harmonious, or coordinated entity often by the addition or arrangement of parts or elements." An integrated life is one in which all the parts fit together as a whole. Sometimes the parts need to be arranged differently; sometimes something is missing that must be added. An integrated life is a life of integrity—where what we believe, what we say, and what we do all line up and fit together. It is a life that looks more and more like Jesus as time passes."
- Integrated Lives, p. 15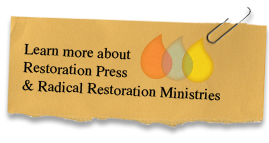 Memberships


Integrated Lives
"This book will give you a deeper understanding of the kingdom of God—the central focus of Jesus. I'm sure it will make a difference."
-Dr. David Cannistraci, Senior Pastor of Gate Way City Church, San Jose, CA, and author of Apostles and the Emerging Apostolic Movement and God's Vision for Your Church
Now available!
More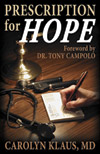 Prescription for Hope
While struggling to plant an inner city health center, Dr. Carolyn Klaus and her friends learned first-hand many principles of the Kingdom of God.
"The most dangerous jungles today are not in Africa but in the inner city. Pioneer medical missionary Dr. Carolyn Klaus's compelling story of bringing health and spiritual wholeness to the poor of North Philadelphia will inspire, convict and show you what faith in God can do. I couldn't put it down."

-Dr. David Stevens, Executive Director, Christian Medical and Dental Association and author of Jesus, M.D
Learn More (external link)